WebEffector: 300 rubles to the balance when registering in the system!
Service of complex website promotion in search engines, optimization and automated contextual advertising service. WebEffector offers users who already have a site the most advanced SEO tools in a single interface that will allow your site to attract customers and get sales. 
Millions of users daily search for goods and services in Yandex and Google search engines by request. The task of sites that match these queries is to get as close as possible to the first position in the search results. WebEffector allows you to solve this problem as efficiently as possible.
The service offers Top-Bit clients to test the system, therefore, it gives 300 rubles to the balance when they click follow this link to the site and registration. The gift amount can be spent on the services of the service.

Service Services:
Rent links
Referrals from search results
Social Factors
Reinforcing links
Permanent Links
SEO audit and consultation
Personal webmaster
And other services of the service
Also, at the beginning of the year, WebEffector launched a new revolutionary module – automated contextual advertising. Distinctive features and advantages of this tool:
Automate all stages of campaign setup and operation;
Quick and easy setup of the AC (up to 10 minutes of campaign setup);
Prices are lower than those of competitors up to 70%;
Instant selection of queries specifically for your site;
The service itself will create a variety of effective ads;
Real clients in a couple of hours.
The main goal of this module is to attract target customers to the site, and WebEffector takes care of all the most difficult work of setting up an advertising campaign.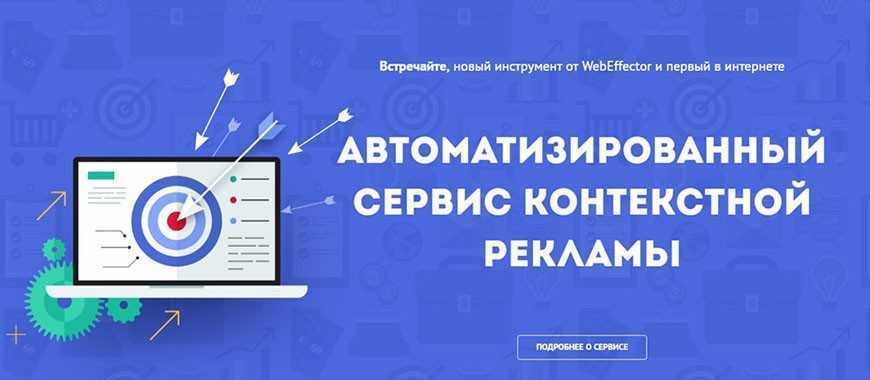 WebEffector is an effective complex tool for promoting websites in the TOP of search engines. The service can be used by both professional site owners and beginners who are just starting their journey in SEO.