With the help of the FormDesigner constructor, you can create almost any web form, from a feedback form, a survey or voting form, to an order form and an online calculator . The constructor has a built-in form designer, with which you can customize the appearance of the form for the design of your site, while you do not need to have any special knowledge and skills. The service has a simple and intuitive interface. It is possible to set up logical rules and branching in the form.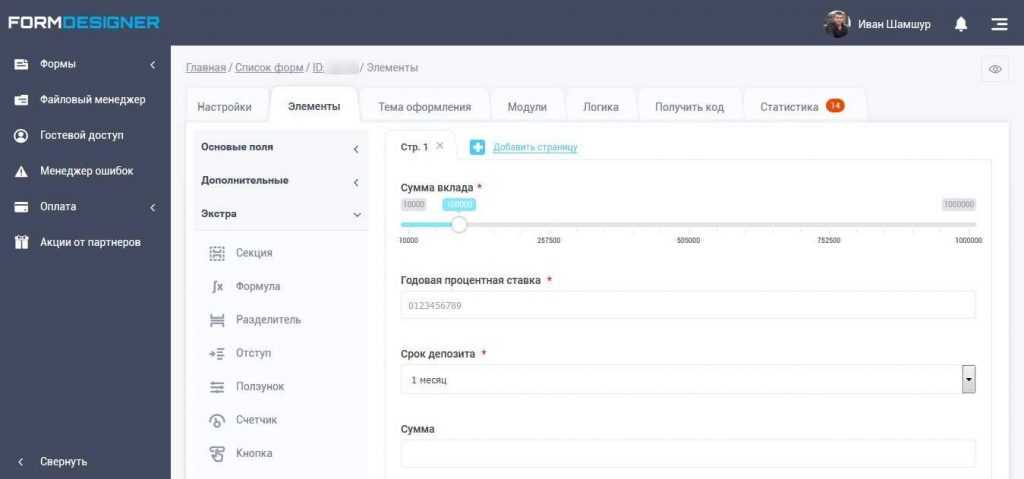 Drag & drop interface
No HTML or CSS — anyone can create a web form using the intuitive Drag&Drop interface. Add fields for entering name and contact information, checkboxes, drop-down lists and buttons for uploading files by simply selecting the necessary items from the menu and dragging them to the workspace with the mouse. In the same way, you can change the order of the fields in the finished web form by moving them up and down.
29 Web Form Element Types
The constructor functionality allows you to create web forms of any complexity: from a standard email subscription to full-fledged multi-page questionnaires. The parameters of each field are configured separately. You yourself choose which of them are required to be filled in, as well as prescribe field names and hints for users.
Themes
There are eight skins available by default in our web form builder. You can customize a unique design for the page, form, headings, elements, and buttons. This is a great opportunity to show your individuality and create a form with an interesting unique style that will certainly attract visitors to the resource.
Boolean rules and branches
Create unique scripts for each web form and make your site as functional as possible. In the "Logic" section, you can add and edit rules that determine what happens if the user enters certain information or takes some action. The FormDesigner tools allow you to customize:
rules for form fields (adding or hiding individual elements during filling, autocomplete);

rules for email and SMS notifications (changing the text of messages depending on the entered data, sending to other addresses);

redirect to other pages.
It is not necessary to know programming — the creation of logical rules takes place in a convenient visual editor, where it is enough to select the desired web form behavior from the drop-down list.
For more information about all the features of the designer, please visit our website
this link
.
Bonus for Top-Bit clients
Top-Biz FormDesigner provides a 35% discount for Platinum tariff payment to Top-Biz customers. To take advantage of the offer, simply register on the FormDesigner website at
this link
, to activate the trial period, send an email with the subject "TOP-BIT 35%" to support@formdesigner.ru