Monetization is a process and an opportunity to attract additional passive income from your website. This term is often used on our site in connection with sites and income. Website monetization is a key factor in calculating estimated revenue.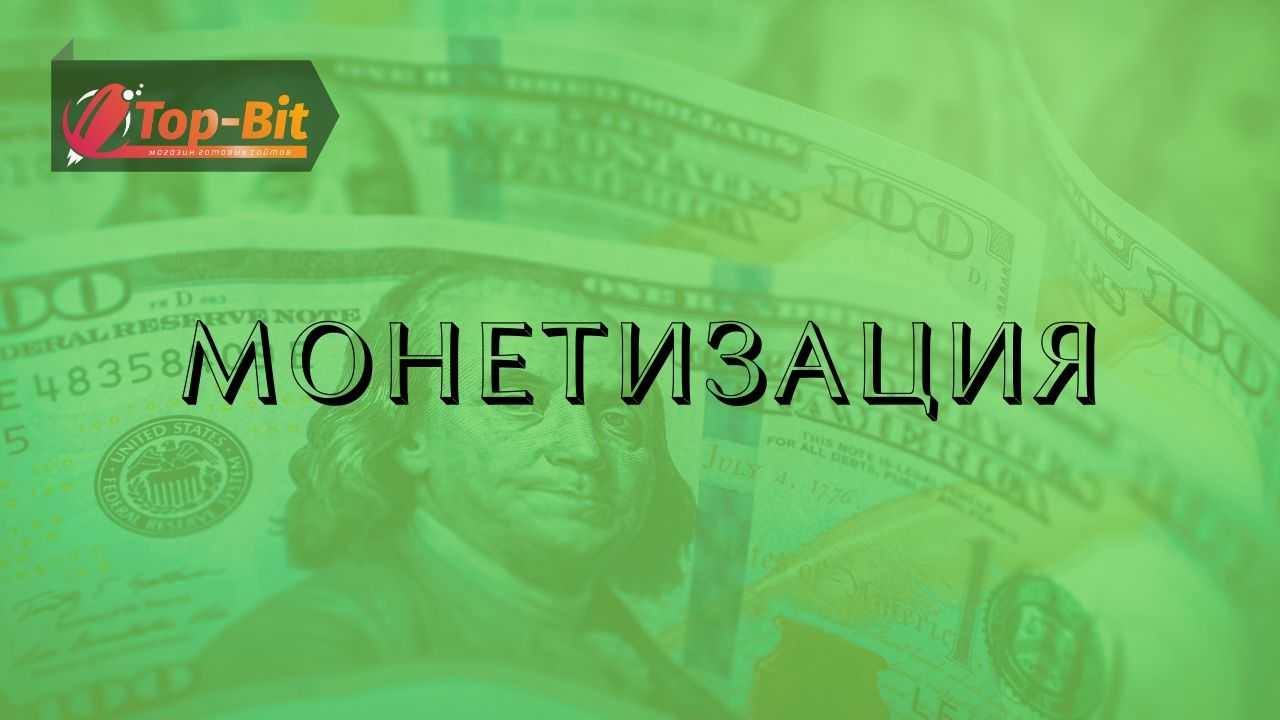 Monetization example
Surely you have seen various advertisements on the sites more than once. This is part of the monetization of the site. It is through advertising that the site receives income. But advertising is just one example.
Types of monetization
We will highlight the most common types of website monetization:
Product sale
Affiliate programs
Selling links using link exchanges
Contextual advertising
Banner ads
Most of these types are engaged in special services and companies.
The most popular monetization systems:
Contextual banner ads
A good method of monetizing sites with high traffic. You pay either for viewing ads or clicking on them.
Google AdSense
Yandex YAN
Link exchanges
Ideal for sites that do not have high traffic, a lot of content on the site and the domain has good performance. Suitable drop domains. Each system has its own requirements. Exchanges marked in orange are easier to get into.
Sape

GoGetLinks
Miralinks

Rotapost
Affiliate programs
Affiliate programs are very beneficial for high traffic websites. You get paid for the referred client. A prime example is our affiliate program. You bring a client and get a constant percentage of his orders. Sometimes, by bringing one client, you can earn more than a month from selling links and contextual advertising together.
Direct selling ads
Especially for this, we have released a new service that allows you to start the process of direct monetization of the site.
You can order this service using the link here.
How to monetize a website
After buying a site, sooner or later the question of monetizing the site arises. For the most profitable work, we recommend showing Search Engines that your site was created for people, and not for making money. Then monetization will be more profitable.
The monetization process must begin with the selection of a system with the help of which this process will be carried out.
How to choose a monetization system
We have already written above about which method is best in which situations. this is what you should be focusing on. If you have a young site with zero traffic, then you don't need to shove the site in Google Adsense in every possible way. You can really make good money there, but it's too early for you.
Besides, it is worth considering the moderation process there. Moderation is very strict there and we recommend (especially in the case of auto-filled sites) before adding, temporarily disable auto-filling, add a couple of articles… Then your chances will greatly increase. After approval, you can continue to work as usual.
As soon as you decide on the system and add your site there, you will receive special codes that you need to place on the site. Premium sites often have built-in systems for more convenient placement of ads on the site. In the case of exchanges of links and articles, there is often manual placement. The system will receive requests with a task and you perform them manually.
Other recommendations
Try not to advertise the entire site. Place only necessary and thematic ads. It is not necessary for a culinary portal to advertise perforators. Similarly, try to post links and articles on the site. Keep it thematic.
We also recommend reinvesting part of the funds. It means that with each link you buy, you lose link weight and it is desirable to compensate for it. We recommend that after the purchase you have 3-5 links and buy 1-2 links to the site yourself. It will only be a plus.