27.00 $
Cookbook site will be of interest to everyone who wants to earn even more. The site can easily monetize and receive passive income.
The estimated income of the site can be: 4000 rubles per month.
Important! Please note that the update is disabled on the demo version. After installation on your server, the site is fully filled.
Compare
Cookbook of recipes with Autocomplete
Recipe Book – A portal that will help you easily generate a huge amount of traffic to the site and bring a lot of profit. The site is visually simple, but very informative. The site has an auto-completion system that monitors 19 sources in real time to find interesting and relevant materials.
Well, for those who don't know about autofill sites yet, go here.
Appearance
The Cookbook site is Premium class and has a functional and flexible look and rich functionality. The main page of the site is made simply and without frills. Everything is convenient and visible. Going to the internal pages, we have 2 additional columns with widgets. There you can display not only useful tools, but also advertising banners.

Autocomplete
The site is auto-complete, and there are 19 auto-complete feeds from 10 different resources. One of the sources is responsible for parsing a video from a YouTube blog (you can easily connect your own) to the site. The site has a system for searching and assigning labels (tags) by ingredients. Thus, any entry that enters the site receives an ingredient tag.
Recipe book functionality
Cookbook Siteis built on the latest (at the time of creation) version of CMS WordPress 5.3.2. The structure includes 11 plug-ins responsible for CNC, Output of records, Seo optimization and feedback. The Soledad theme is responsible for the appearance of the site, which has separate settings. Although there are not so many of them, the most important site settings are taken into account. Thanks to the flexible settings of the template, you can change not only individual elements of the site, but also place banners in the right places.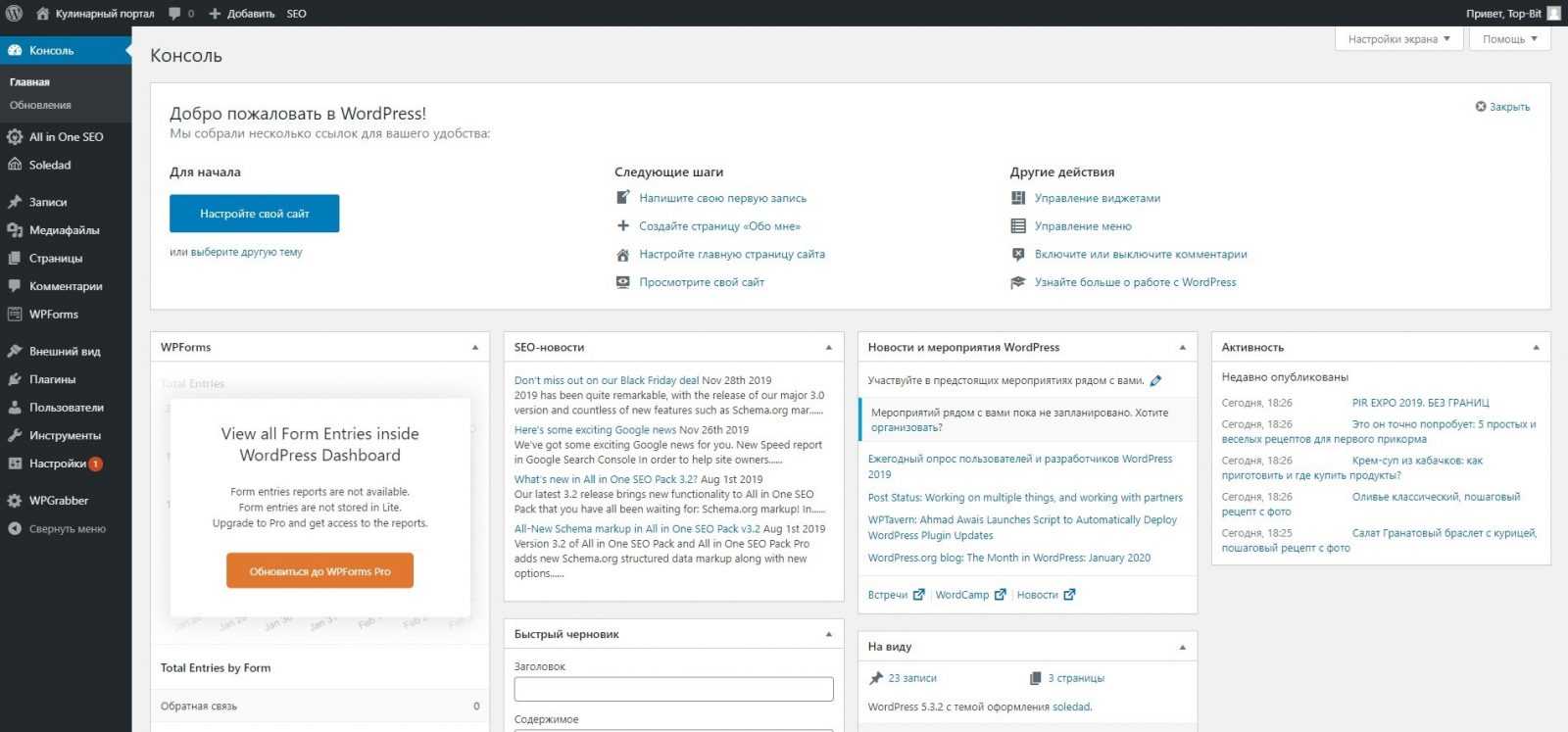 A general list of plugins and other components can be found in the next Composition tab.
SEO Optimization
A system has been installed on the Cookbook Site that helps to carry out a comprehensive SEO optimization of the site All in One SEO Pack. We have already talked about it before. The system is set up to generate basic meta tags. If you want to achieve better results, we recommend ordering SEO Optimization Service in our store. However, given the huge number of articles in the directory, with the right optimization, you can get even more traffic.
Monetization
It will be very easy to monetize such a site using banner ads or link exchanges. The internal system will also help to easily place a banner on the site.
Summary
The Cookbook website will help to collect maximum traffic to the site due to the huge amount of useful content.
02/04/2020 First release 1.0
————————————————– ———-
Build composition at the time of release publication
————————————————– ———-
---
Template (theme): Soledad Version: 7.2.3
---
Test site performance: MySQL: 5.5.6, PHP (CGI) version: 5.6.2 or higher (we recommend 7.1.22 or higher)
---
Akismet Anti-Spam 4.1.3 – Anti-Spam
All In One SEO Pack 3.3.4 – SEO Management
Cyr-To-Lat 4.3.2 – CNC on site
No Category Base (WPML) 1.3 – Removes the word Category from links
Penci Shortcodes 2.2 + Vafpress Post Formats UI 1.6 – Template Extension Pack
WP Sitemap Page 1.6.2 – Sitemap
WPForms Lite 1.5.8.2 – Creating Feedback Forms
Video Thumbnails 2.12.3 – Generate Thumbnails from Video
WPGrabber 5.3 – grabber – parsing articles from other sources
Sources used in the build at the time of release publication from 02/04/2020
————————————————– ———-
Number of tapes – 19
————————————————– ———-
Number of sources – 10
---
Sources:
wday.ru
fb.ru
gastronom.ru
povarenok.ru
gotovim.ru
kedem.ru
neboley.com.ua
medvesti.com
shkolazhizni.ru
youtube.com
---
02/04/2020 First release 1.0