75.00 $ (-60%)
Internet auto parts storewill be of interest to all car enthusiasts. A powerful system based on Woocommerce will allow you to easily administer your store and take orders. Suitable for dropshipping.
The estimated income of the site can be: 50,000 rubles per month.
Important! Please note that the update is disabled on the demo version. After installation on your server, the site is fully filled.
Compare
Auto Parts Store
Auto Parts Store Will be useful to anyone who sells offline auto parts and accessories. Transfer all goods online and increase your income. The site has powerful e-commerce tools Woocommerce. You can easily take an order, add a product and much more. The interface is very convenient and understandable. The site is adapted for all types of devices and it will look good both on a PC and on a smartphone. There is a separate blog, which is filled automatically. The autofill system helps him in this.
Well, for those who don't know about autofill sites yet, go here.
Appearance
Auto Parts Store is Premium and has a functional and flexible look and rich functionality. The site uses 8 main product categories. You can edit them for yourself.
After opening the site, you get to the main page, which is designed conveniently and intuitively. On it you will see the main blocks that display discounted products, various special offers and popular products.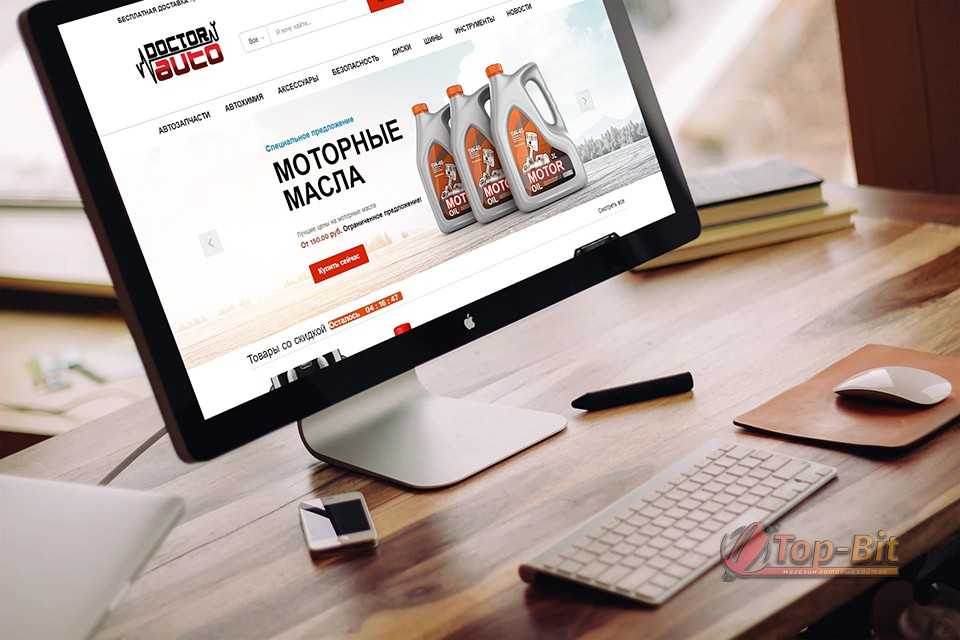 At the very bottom of the site is a footer area where you can add widgets. Even lower you will see the Site Copyright, which you can change in the template settings.
Autocomplete
The auto parts store blog is auto-populated, and here is 2 auto-fill feed from 2 different sources (websites). All articles are carefully processed and categorized. As a result of filling, you get only pure text and images, videos. At the end of the article, a link back to the relevant source is affixed. This link is the only one in the article and is blocked from passing link weight to the source using the Noffolow attribute. Also, this link will protect your site from possible sanctions from search engines.
Functional Internet auto parts store
The site is built on the latest (at the time of creation) version of CMS WordPress 5.3.2. The composition includes more than 15 plugins responsible for CNC, displaying records, feedback and selling goods. The Martfury theme is responsible for the appearance of the site, which has separate settings. Although there are not so many of them, the most important site settings are taken into account. Template localized for Russian (front-end site). The main settings are visual and not only carried out through the admin panel. Page editing is done through the visual editor Elementor. The main management of the store is carried out through the Woocommerce plugin.
Woocommerce in auto parts store
We have previously published Woocommerce store management tutorial. This is a powerful e-commerce system that allows you to make your store convenient and profitable. The system allows you to expand the functionality through a variety of add-ons, but more on that later.
With Woocommerce, you can manage orders, inventory, products, and more.
Product management is also carried out through the admin panel, as shown below:
The functionality can be expanded indefinitely. If you need to add payment systems and much more, please contact support. A general list of plugins and other components can be found in the next tab Composition.
Expanding the functionality of the store
As we wrote earlier, the functionality can be significantly expanded. If you need to import a product from the supplier base let us know. We will install a powerful import system and import the goods. Need SEO optimization? Also not a problem.
We can help you with:
Import goods from supplier base
Conduct SEO optimization of the store and product
Set multilingual
Set multicurrency
Install a discount program
Adapt the site to sell another product
Connect payment systems
Connect delivery services
SMS notification
much more
Also, the store is ideal for selling goods through the dropshipping system.
Summary
An auto parts store is ideal for starting a dropshipping business and more. Earn by selling goods. Income can be unlimited.
Additional information
| | |
| --- | --- |
| Site class | |
| Subject | |
| Autocomplete | |
| Number of sources (tapes) | |
| Functional | FAQ, Feedback form, Grid show, Informers, Localization, Mega menu, Mobile version, Registration/Authorization, Site news, Slider, Social buttons, Weather |
| CMS | |
| Sample | |
01/22/2020 First release 1.0
————————————————– ———-
Build composition at the time of release publication
————————————————– ———-
---
Template (theme): Martfury Version: 2.2.2
---
Test site performance: MySQL: 5.5.6, PHP (CGI) version: 5.6.2 or higher (we recommend 7.1.22 or higher)
---
Plugins:
Akismet Anti-Spam 4.1.3 – Anti-Spam
Contact Form 7 5.1.6 – Contact Form
Cyr-To-Lat 4.3.2 – CNC on site
Elementor 2.8.4 – Visual Page Editor
Kirki Customizer Framework 3.0.45 – Template Extension
Martfury Addons 2.1.2 – Additional elements from the template
Meta Box 5.2.4 – Custom Fields
No Category Base (WPML) 1.3 – Removes the word Category from links
Slider Revolution 6.1.5 – Website Slider
WooCommerce 3.9.0 – An ecommerce tool that helps you sell anything
WooCommerce Admin 0.24.0 – Store Administration
WooCommerce Deals 1.0.9 – Discounted Products Extension
WooCommerce Variation Swatches Pro 1.0.5 – Variation Products Extension
YITH WooCommerce Compare 2.3.18 – Product Compare
YITH WooCommerce Wishlist 3.0.5 – Featured Product
WPGrabber 5.3 – grabber – parsing articles from other sources
Sources used in the build at the time of release publication from 22.01.2020
————————————————– ———-
Number of tapes – 2
————————————————– ———-
Number of sources – 2
---
Sources:
---
01/22/2020 First release 1.0